Warren Semmes
CSLB License #890668
If you are you looking for residential door repair,
I can help!   I'm a state California licensed contractor.
714-380-0081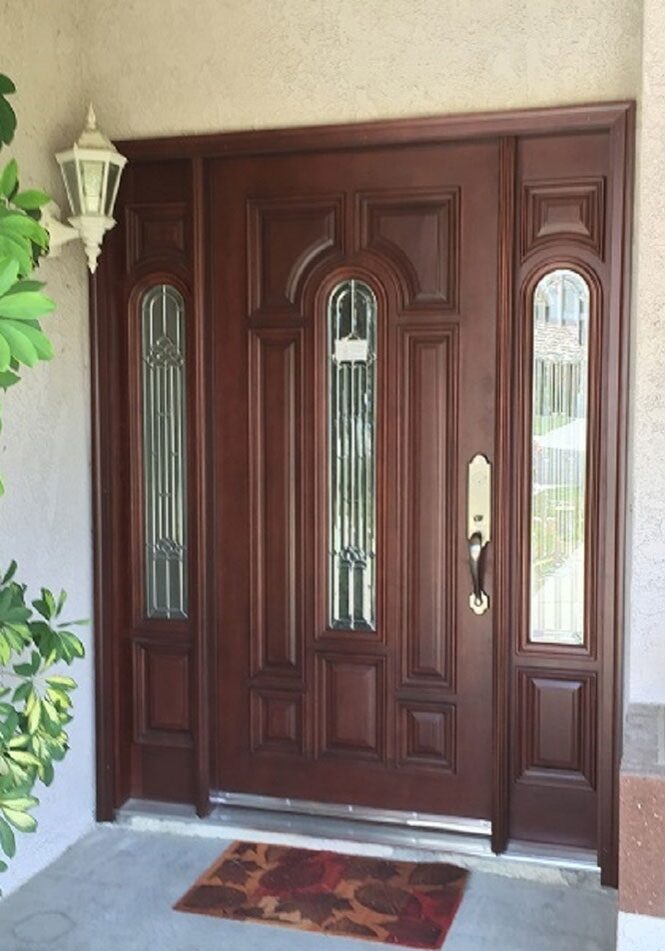 This is a family-owned and operated business, offering all kinds of door repair services throughout Orange County. I can (personally) address all your door repair needs with years of experience and perfection. At the bottom of this page you will find a few of my favorite "TESTIMONIAL" reviews by satisfied customers. Also, on all pages of this website there are service call fees for each  town in Orange County that I service....
Feel free to get in touch with me for very exceptional door repair service. At Door Doctor, I quote costs mostly on the phone, due to my hectic schedule. However, I can definitely come to you in person, if necessary. Furthermore, if you have to leave a message when you call, please know that I will make every effort to get back with you by the end of the day.... Also, check out my QUOTES page.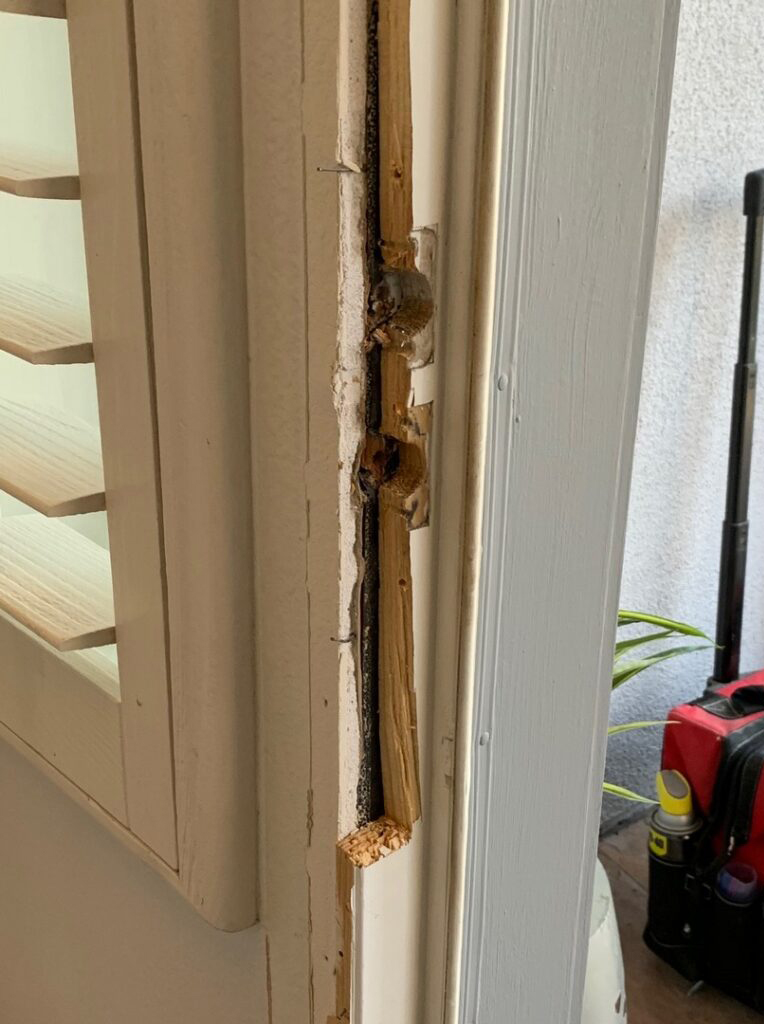 Above and to the right are two photos of a home break-in. I came to the home and repaired the damage, and the results are shown in the photo to the right. The customer wanted to save money by my "repairing" rather than "replacing" the jamb leg (section of frame). And, the customer saved about $200 by choosing to have the break-in damage repaired. It is definitely your choice which path you choose, but the end result is the same, both in aesthetics and strength of stability.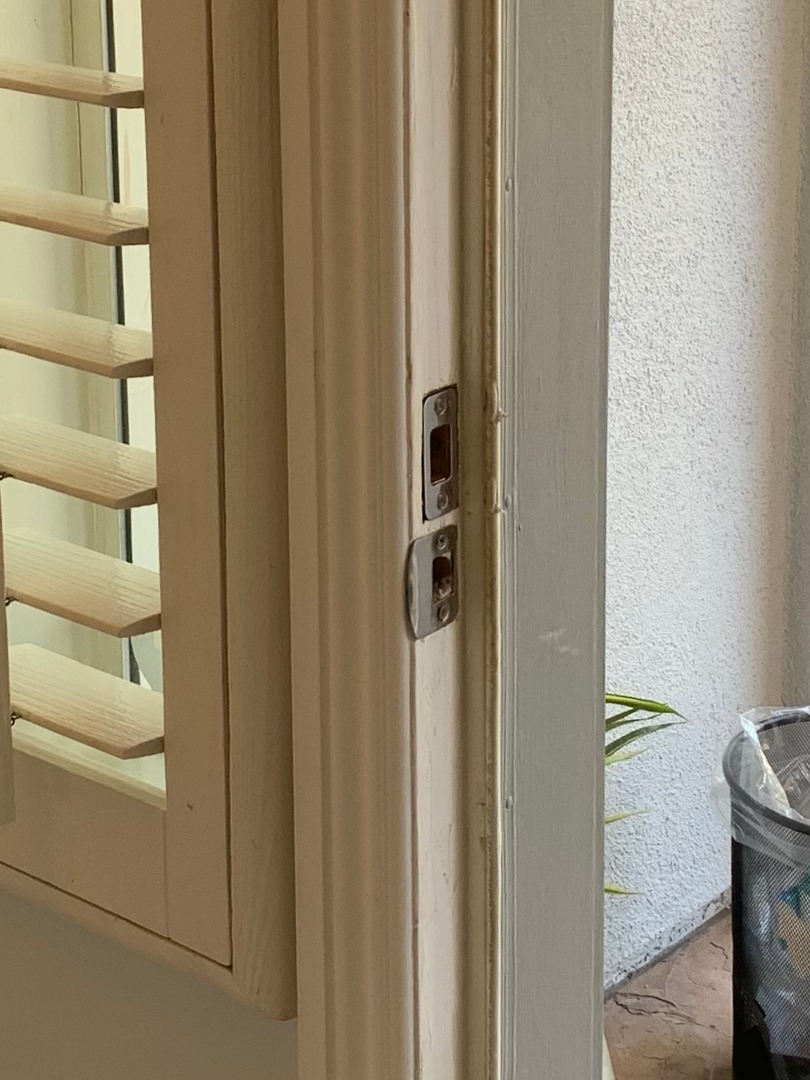 My skillful and proficient door repair expertise includes all experience and skill to perform many levels of door repair. Furthermore, I have the practical experience in removing the complete unit of the jamb leg (door frame section) and replacing it (or repairing like new) from top to bottom of the frame. And, I will restore it (if all pieces are available) in reasonably like-new condition or fashion. Please note the repaired photo above....However, I do not paint....Sorry.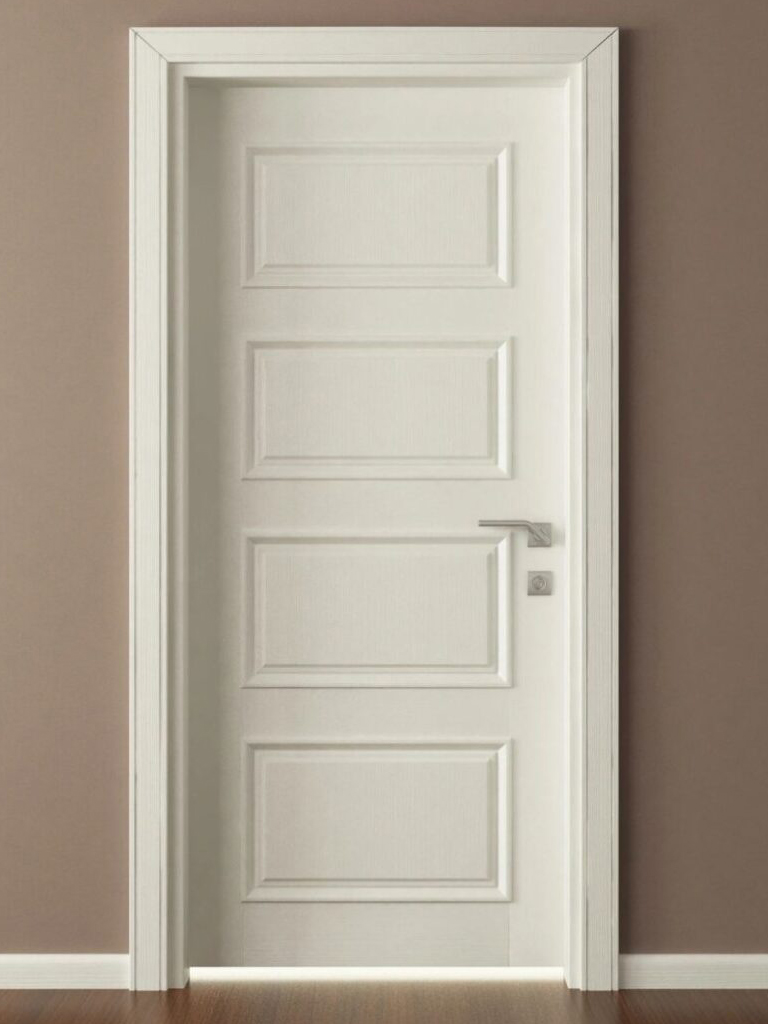 NOTE: I no longer install doors (age factor). However, I can refer you to someone who has been in the business for many years, and who, also, has not only the years of experience, but also a California State Contractor's License.... Hiring a handyman is dangerous and can be expensive (in the long run). You need a professional who has been in the business for many years, with a success rate expressed by reviews. Check out a few review "Testimonials" of mine on display below....  
Service Call Prices (Does Not Include Labor)
Note: 30-day warranty on all labor and materials.
Testimonials
Amazing service. Extremely knowledgeable. A+
If you have a door issue, look no further. He's a honest guy that does great work.
Door Doctor responded quickly to my quote request. He quoted the hourly rate but asked that I call to give him more info about the problem I was having with my door. I ended up fixing it myself but I would call Door Doctor again if my repair fails or I have a more complicated door problem.
Excellent, professional work. Anything you need related to doors, this is the right place to look. I had a project that If I couldn't find anyone to do it, would cost me a new set of double entry doors. So I called the door doctor the Friday before thanksgiving and received a prompt call back to discuss my project. Post conversation, he was able to come with his trusty assistant the following Monday and got the job done. Same day. He arrived at 1:30 and finished at 6:30pm. The project cost was beyond reasonable.
I was just amazed and at how responsible, and knowledgeable they are. Overall a fantastic experience and would recommend! 🙂
I would give Door Doctor more stars if I could.
My daughter moved into her Anaheim condo a year ago that she bought as-is and the deadbolt has never worked. She even considered buying a new door. But given the quotes of $2k and up for purchase and installation, the belief it's likely not her forever home and she's got other things on her to-do list, it was a godsend to find Door Doctor on Yelp.
I called for an estimate and just by chatting for a few minutes, he not only gave me a fair quote (an hour to fix the deadbolt problem and replace with a smart lock my daughter had already purchased), he gained my trust and I told him so,
He showed up 30 minutes later and 40 minutes later my daughter finally has a fully working and technology-upgraded doorlock. Why didn't we find him a year ago?
Fully and happily recommend this business.
Warren was great. He was up front about costs and able to come out really quickly. I wasn't around when he got there but my wife and kids liked him and felt very comfortable.
He's honest, reliable and likes to fix doors.
Warren was professional, prompt, thorough, and follows through exactly what he promised, delivering an OUTSTANDING job! He's trustworthy and honest.
Family rental house front door was broken down by the FBI with warrant to the old tenants. We hired a handyman who ordered the door through Home Depot. After waiting one month, found that the door he ordered didn't even match the style and had the opening on the wrong side.
With new tenants ready to move into the rental in one week, and no more time to order a door, Last Friday afternoon, I frantically found door doctor through yelp. Knowing I urgently needed this door repaired, Warren immediately came in thirty minutes. He found that my handyman had put in the incorrect jamb because he didn't even make the proper groove for the Qlon rubber sewing strip for the door to properly close.
Warren immediately called his supplier late Friday afternoon to locate a new matching door. He didn't deposit my check until he went on Monday morning to verify the door was an exact match as required by the association.
Then on Monday, he immediately spent 6 hours to put in a new door frame, proper jam with Qlon groove, door moulding and casing around the door. As soon as the door arrived, Warren installed the door with with his crew. Every step of the way he texted me to keep me updated about the supplier and sent me many pics so I could see what he did.
I was amazed at his efficiency and his excellent follow through and really excellent work. He also went above and beyond to paint and fix the threshold. Originally he had told me the door will need to be painted but it turned out the door's color matched my existing door! His price was also very reasonable and was much different from what the handyman was going to charge me.
I was originally so worried about the entire thing, but Warren made everything hassle free. With the door doctor, you can be assured you will be in good hands!
I am an 87 year-old widow doing my best to keep my house in repair.Today I had an amazing experience. Not only was the front door issue professionally addressed, he pointed out that the door was not secure against a break -in, even locked, due to a shallowly installed strike. He changed it out at no extra cost. As he was leaving, he commented on my funky gate latch and decided to repair it as well because he said he hates to see something broken. I feel as though I have been visited by an angel. Words cannot express my gratitude.
We had a front door that took a very special shake and jiggle to close and open. We were pretty sure we needed to replace the complete door and door jam. Door Doctor installed a new lock and delivered a like new swing and close.
I will recommend him to friends and family.
Door Doctor is the most experienced door man around. He accepted our door install request, came and measured our door opening first. He knew we bought the door at Urban doors, sight unseen (kinda) (measurement estimated). He even picked up the door for us. His crew was excellent and really looked after the finished product. Our home was built in 1955 and the new door looks like it belongs with it. He has a wonderful service and highly recommended. As far as costs go, he is about a $$$ but totally worth $$$$$.  I got a few other estimates at $ price, but they were hit and miss. I'm glad we found the doctor.